The UK Intellectual Property Office (UKIPO) is currently undergoing a major investment programme which will see improvements in its electronic services, increased examination capacity and (hopefully) faster processing times. In March 2017 the UKIPO published a document summarising its "Proposed changes to statutory patent fees" in support of this programme. Following responses to their proposals, and a Government consultation, patent fees are now set to increase on 6 April 2018.
The last time that the statutory fees for patent protection changed was in April 2010 and the UKIPO charges some of the lowest in the world (which will still be true after the changes take place). The greatest changes are to the application, search and examination fees. As is currently the case, it will still be cheaper to file applications online, but now there will be a 25% surcharge where application fees are not paid on filing.
Fees for online filing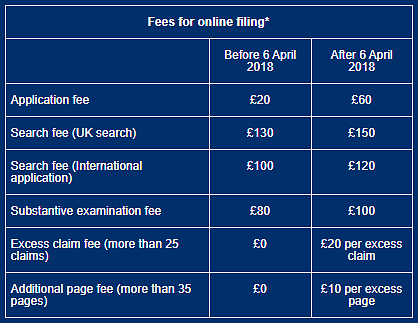 The UKIPO is a trading fund which means it needs to be able to cover its costs through fees. However, in order to encourage innovation and to support new businesses (not to mention creative individuals) it's important that the fees are kept as low as reasonably possible, at least in the initial stages of application.
A compromise has been reached by keeping the application and pre-grant fees low (currently the official fees charged by the UKIPO can be comfortably under £400 to get a patent granted) whilst renewal fees currently start at £70 in year 5 and increase year on year up to £600 by year 20. In this way more successful inventions will tend to cost the proprietor more than less successful inventions. This is particularly important to new businesses who might otherwise struggle with higher fees during their first few years.
Typically, the UKIPO only breaks even on a patent that remains in force for 15 years or more. From April 2018, renewal fees from the twelfth year onward are also set to increase, allowing the UKIPO to break even just slightly earlier.
Renewal fees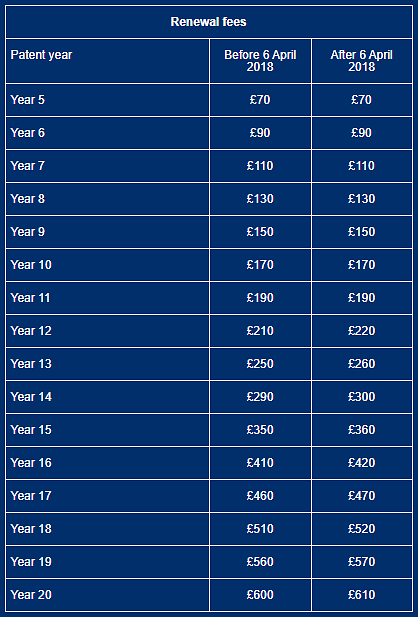 The changes are designed to help the UKIPO to be more efficient, with clear incentives for applicants to submit more concise, clearer patents and to submit them online. The anticipated faster processing times would be of benefit to anyone applying for a new patent in the UK.
However, many businesses will be disappointed by the introduction of excess claim and page fees. It is common to file broad priority applications at the UKIPO containing a large number of claims, particularly where a client's new product embodies two or more inventive concepts, with a view to reducing the number of claims or filing divisional applications later on (for example, when filing abroad at the end of the priority year after reviewing the results of the UK search report(s)). Applicants will now have to think more carefully about whether to file multiple separate applications up front. On a more positive note, however, the excess claims fees will not become payable until a search is requested; it will therefore still be possible to use a UK application to achieve a priority date for a large amount of subject matter at low cost.
Additionally, even with these increases, the cost of getting a patent in the UK and maintaining it throughout its 20 year lifespan is still substantially less than in other territories, including Germany, France and the US. The search fees in particular remain very low and offer valuable information for any inventor who might need to decide which inventions to pursue through to grant.
Author: Rebecca Douglas
*Excluding the 25% surcharge if the application fee is not paid on filing.